Buy a leaf in the Tree of Life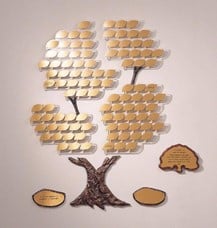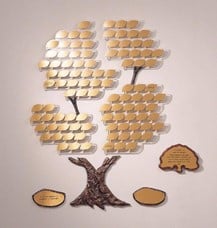 JRLC of South Beach is like a tree with wide branches and innumerous leaves. Each additional leaf is another good deed bringing light to our lives.
Apparently, one single leaf seems insignificant when compared with the entire tree. But it is known that the leaves are the source of breathing for the tree. There is no tree without leaves and, if there is no tree, there are no fruits.
By initiative of our friends, we are building a special tree which will be positioned in the synagogue. Over time, this will provide donors the opportunity to support JRLC of South Beach, while honoring family and friends. The Tree of Life celebrates the current lives of family and friends by honoring birthdays, anniversaries, marriages, births, bar and bat mitzvahs, retirements or other special occasions.
To participate and buy a leaf in the "Tree of Life" it is US$ 450.
Buy a plaque in the Memorial Board
We are fortunate to have a beautiful Memorial Board in our synagogue.
The elegant memorial plaque dedication is a distinguished, reverent way of paying respect and tribute to the memories of our dear departed loved ones, showing as it does the prominent places they occupy in our place of worship and in our hearts.
Our sages tell us that the best memorial for a loved that has passed on is to donate Tzedaka (Charity) in their memory.  You can dedicate a plaque on the Memorial, which will bear the name and date of the passing of a loved one, for US$ 450.
The fee includes annual notification of upcoming Yahrzeits and the illumination of memorial lights on the board during the month of the Yahrzeit perpetually.